Double Flange Liquid Level Transmitter
Features
Applications:
1. High reference accuracy up to 0.075%, higher on request.
Gauge & absolute pressure measurement in gases, steam or liquids in all areas of of engineering process and measurement.
2. Long-term drift ≤±0.25%URL for 1 year.
3. Range down ratio 100:1; higher on request.
Level measurement in liquids.
4. Replaceable display unit & electronic module.
High process temperatures up to 280ºC with diaphragm seals.
5. Universal electronics.
It can be used below particular occasiaon
6. Menu-guided operation.
1. Need to isolate the high temperature medium with transmitter
7. Factory default data recovery is supportive
2. The measuring medium is corrosive to the transmitter
8. Hart, PROFIBUS-PA or FF protocol for option.
3. The measuring medium solidification or crystallization due to environmental or temperature changes
4. Suspended liquid or high viscosity medium
Technical Data-
WNK58 High Temperature Double Flange Liquid Level/ Pressure Transmitter
| | |
| --- | --- |
| Applicable media | liquid, gas and steam |
| Pressure range | -4000kPa~4000kPa |
| Accuracy | 0.075%, higher on request |
| Stability | ±0.25% of URL for 1 year |
| Temperature drift | ±0.0625% of URL/10ºC |
| Output signals | 4~20mA, Hart, PROFIBUS-PA for option |
| Housing material | Aluminum14 |
| Mechanical connection | M20×1.5;G1/2;1/2NPT |
| Protection class | IP66/67 |
| Diaphragm material | 316L, Alloy C-276, Monel, Tantalum diaphragm, 316L with PTFE coating etc for option |
| Fluid filled | Silicon oil,Vegetable oil,Inert oil ,High temperature oil etc for option |
| Ex-proof | Exia II CT4, other option per request |
| Power Supply | 10.5-55V DC 10.5-30V DC |
| Ambient temperature | -40 to 85ºC,-40 to 80ºCfor LCD header |
| Storage temperature | -45 to 85ºC,-40 to 80ºC for LCD header ; |
For more information, please contact us for product manual.WNK58 installation diagram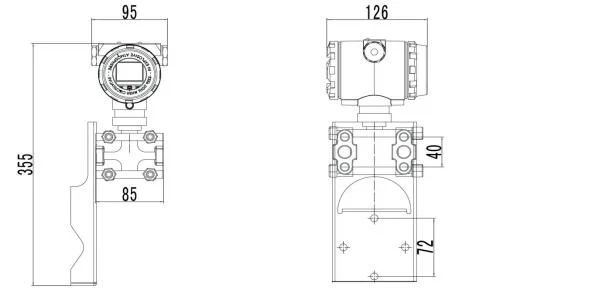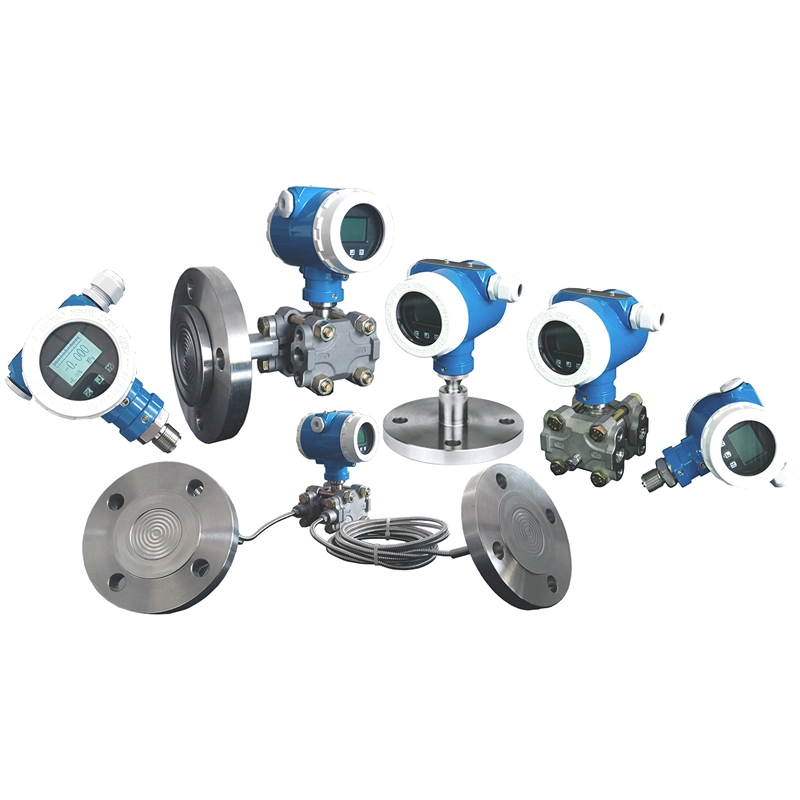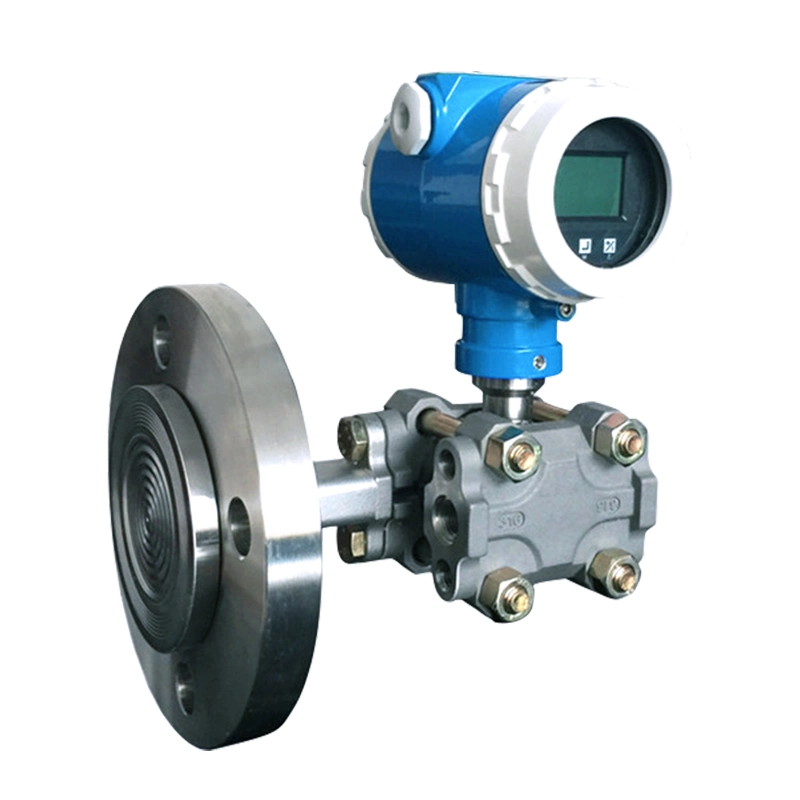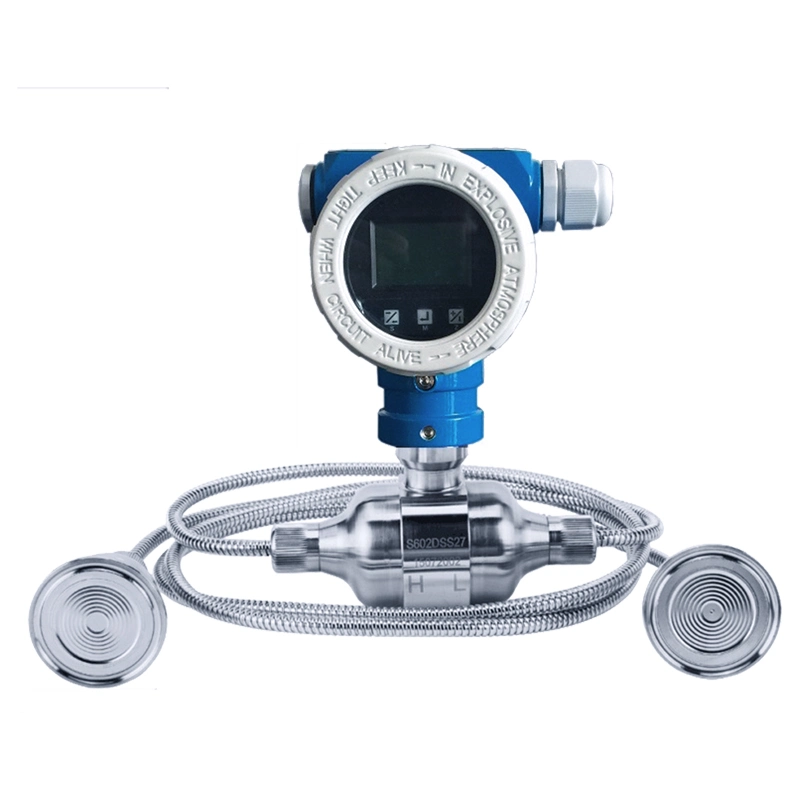 Ordering information
Model
Product details
WNK58
smart double flange differential pressure transmitter
Code
Approval
A
For non explosion-proof areas
1
ExiaII CT6
2
ExiaII CT4
3
ExdII CT6
For other approvals or more information, please contact with us
Code
Output code
A
4…20mA
H
4…20mA,HART
P
PROFIBUS-PA
F
FF
Code
Display
A
No display
L
LCD
Code
Housing; Cable entry; Protection
A
Aluminum 14,M20×1.5,IP66/67
B
Aluminum 14,G1/2,IP66/67
C
Aluminum 14,1/2NPT,IP66/67
Code
Sensor range, for gauge pressure
7D
100mbar,PN160 (10kPa/1mH2O)
7F
500bar,PN160 (50kPa/5mH2O)
7H
3bar,PN160 (300kPa/30mH2O)
7L
16bar,PN160 (1.6MPa/160mH2O)
7M
40bar,PN160 (4MPa/400mH2O)
Code
Calibration,Unit
1
Sensor range,mbar/bar
2
Sensor range,kPa/MPa
3
Sensor range,mmH2O/mH2O
4
Sensor range,psi
Code
Diaphragm material
1
316L
2
Alloy C-276
3
Monel
4
Tantalum diaphragm
6
316L with PTFE coating(not fit for vacuum situation, only for non-explosive proof )
X
Other special requirements
For other special diaphragm, please contact with us.
Code
Process connection EN/DIN flange
Code
Process connection ANSI flange
EA1
DN25 PN10/40 B1
NA1
1"300 lbs RF
EA2
DN25 PN64/160 E
NA2
1"400/600 lbs RF
EA3
DN25 PN250 E
NA3
1"900/1500 lbs RF
EA4
DN25 PN400 E
NA4
1"2500 lbs RF
EH1
DN50 PN25/40 A
NH1
2"300 lbs RF
EH2
DN50 PN100/160 E
NH2
2"400/600 lbs RF
EH3
DN50 PN250 E
NH3
2"900/1500 lbs RF
EH4
DN50 PN400 E
NH4
2"2500 lbs RF
EQ1
DN80 PN25/40 A
NQ1
3"300 lbs RF
EQ2
DN80 PN100 B1
NM1
4"300 lbs RF
EM1
DN100 PN100 B1E
EAX
Other special requirement
For any more option, please kindly contact with us
Code
Depth of the diaphragm insert
Code
Depth of the diaphragm insert
C0
No
C4
2"
C1
50mm
C5
4"
C2
100mm
C6
6"
C3
200mm
C7
8"
Code
Fluid filled
Code
Fluid filled
A
Silicon oil
C
Inert oil
B
Vegetable oil
D
High temperature oil
Code
Capillary length
A
No
XX
XX, to fill the digit,01says 1m,99says 99m
Code
Mounting bracket
A
No
U
Mounting bracket for pipe
Typical model#:WNK58 AHL A7H21 EH2C0 A02A
Company Info: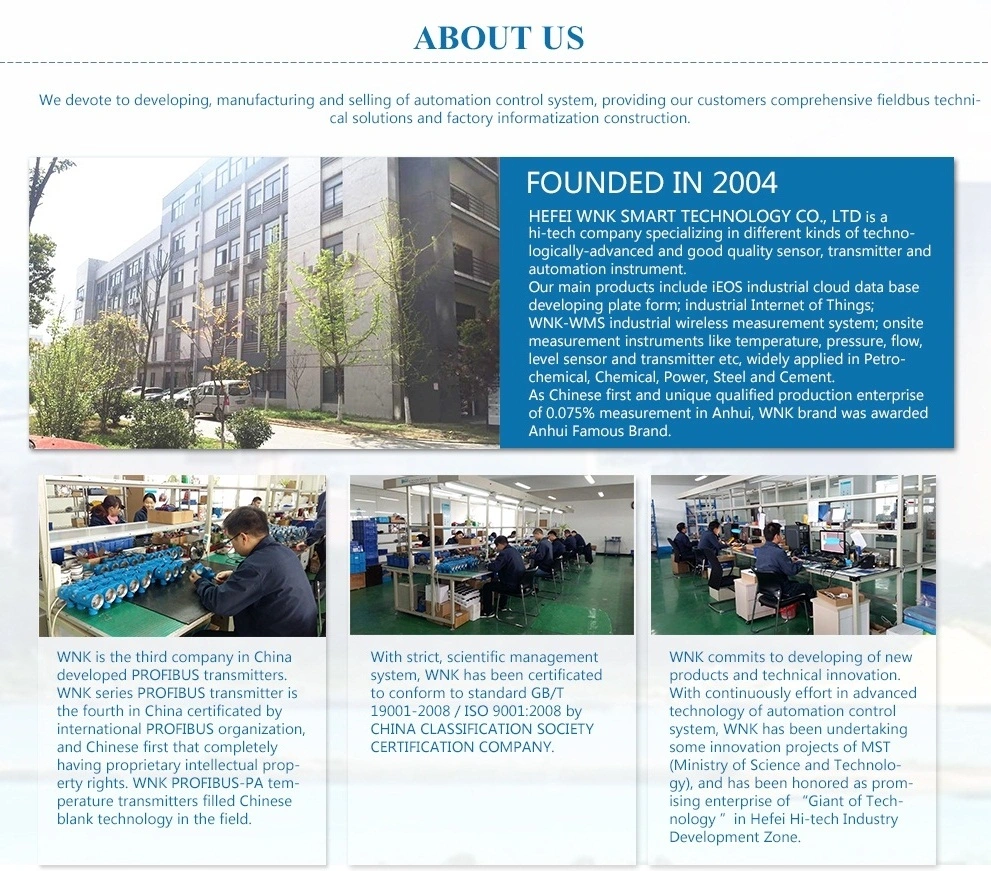 Project Photoes: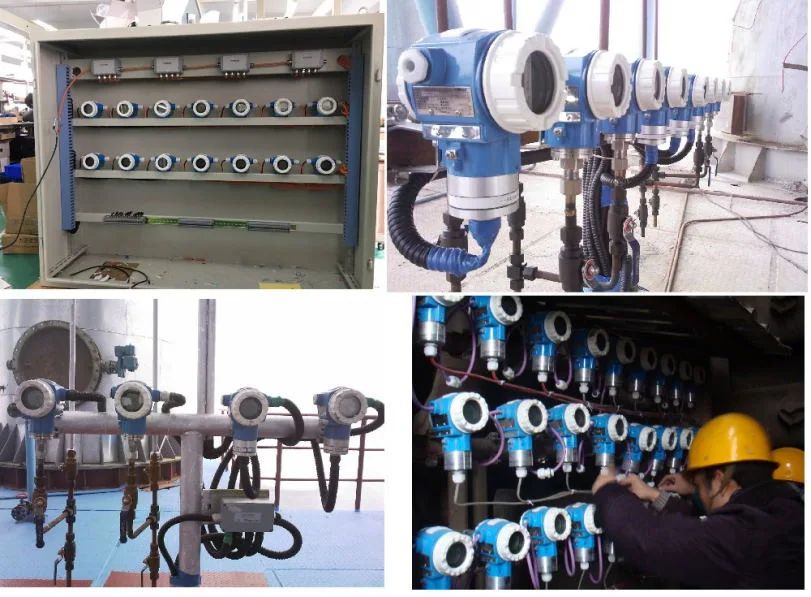 Certificates: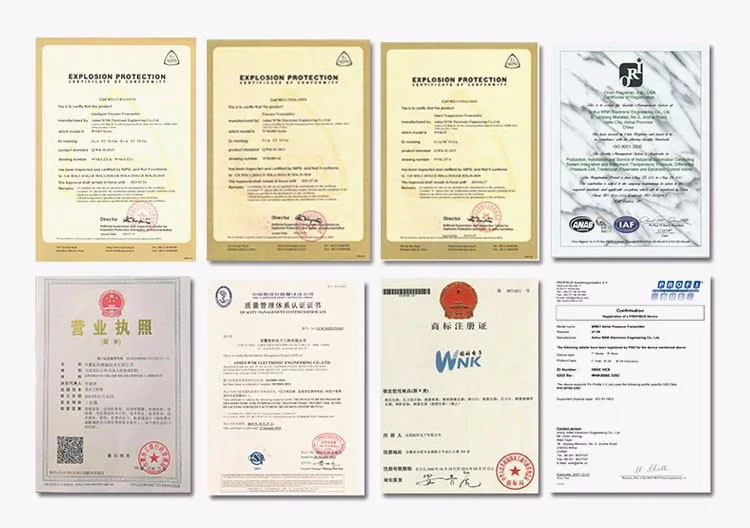 FAQ:
Q: Are you manufacturer or trading company?
A: We are 13-year professional manufacturer of Pressure/ Level/ Temperature transmitters with 4~20mA, Hart, Profibus & FF protocols, pressure sensors with SPI, I2C, 4~20mA, 0.5~4.5V and etc, and electronic switches. We provide high quality products with high competitive factory price.

Q: What's your quality control system?
A: As an ISO9001:2015 certificated manufacturer, we have strict quality control system, and each product is done fatigue testing, calibration, temperature compensation before shipment. High quality is guaranteed.

Q: Is there MOQ with your product?
A: We have no MOQ limits, 1pc for testing purpose is acceptable.

Q: Can we print our logo on the products? Do you provide customized products?
A: Yes, we can print your logo on our products; OEM, ODM&customization are welcomed.

Q: What is the warranty of your products? And after-sales service?
A: Our warranty time is 12 months after shipment, and our after-sales dpt will respond with your questions in 24hrs, remote instruction by PC network is always available.

Q: What is lead time of your product?
A: We are factory, our lead time is always within 7 working days for products without customization, but lead time for flange products is a little longer.