Gauge Pressure Analog Tank Liquid Level Transmitter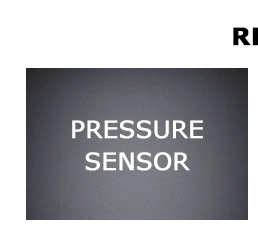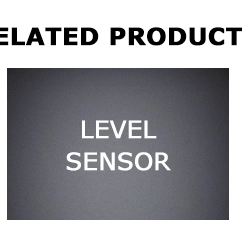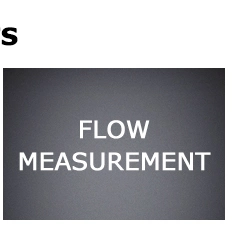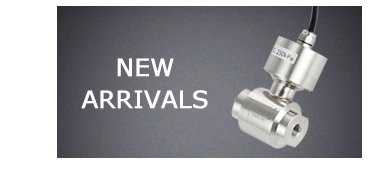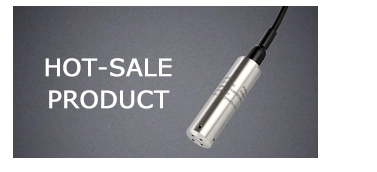 Product Description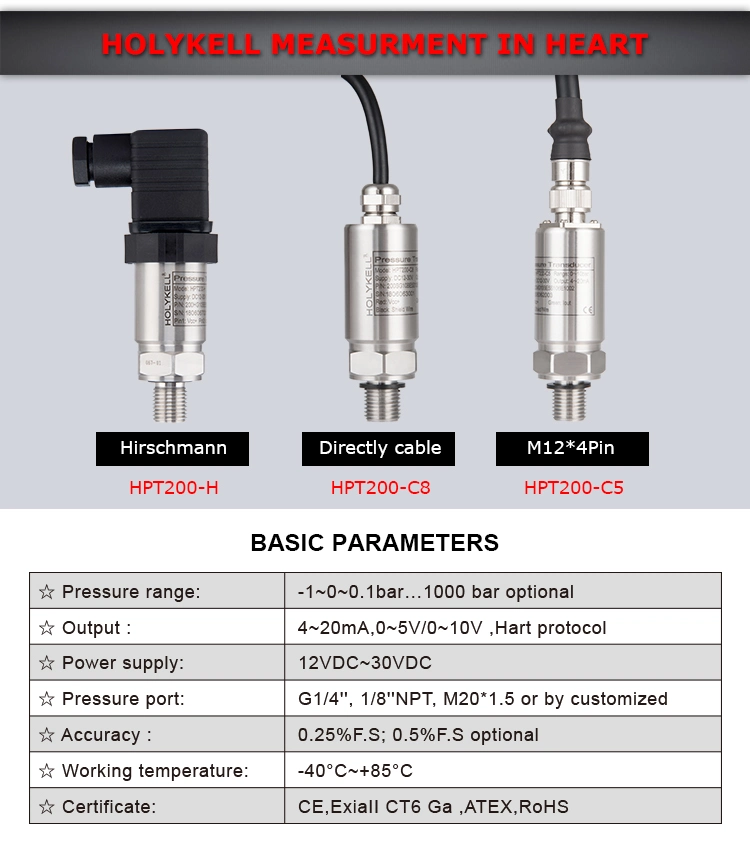 HPT200 water pressure sensor use high quality imported U.S.A MEAS TE piezoresistive pressure sensor with isolated stainless steel diaphragm as signal sensing element,5-10 years life design. Excellent shock and vibration Rated and strong RFI & EMI resistance,Rugged Construction, Can withstand the most stringent conditions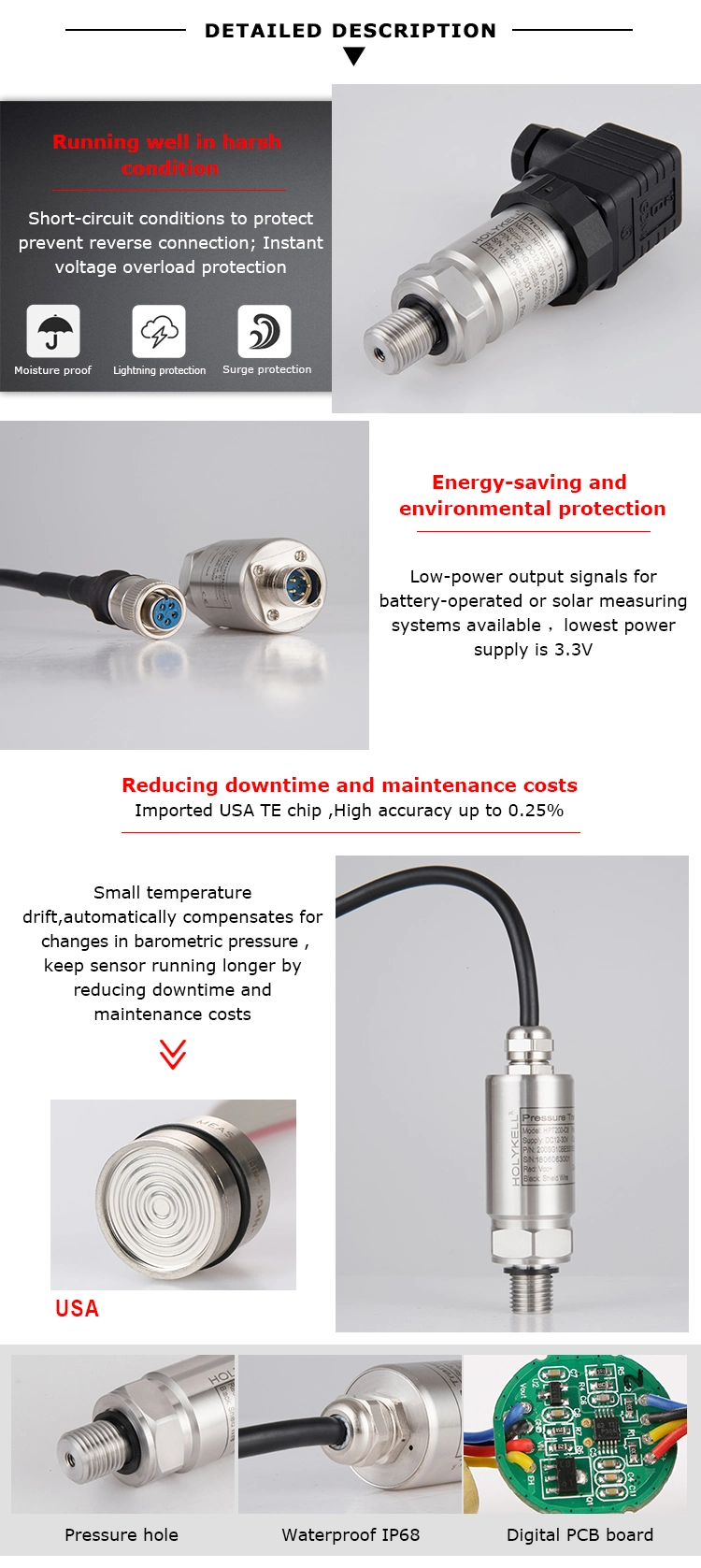 You will benefit from Our HPT200 Water pressure sensor ?
| | | |
| --- | --- | --- |
| Feature | Advantage | Benefit |
| It offers process connection ,electronical connection range accuracy options | all the standard industry output signals, the most common international process connections and a wide number of electrical connections | it can be suited to the widest range of applications. |
| lightning surge reverse protection | short-circuit conditions to protect prevent reverse connection; Instant voltage overload protection | running reliable and longlasting in harsh condition |
| The vent with a filter | breath atmospher and protect moisture enter transducer | without maintenance, even in the most humid environments. |
| USA TE Chip,Digital PCB board | High accuracy 0.25%,Small temperature drift,automatically compensates for changes in barometric pressure | Stability,keep sensor running longer by reducing downtime and maintenance costs |
| Lowe-Power output signals | Low-power output signals for battery-operated or solar measuring systems available ,lowest power supply is 3.3V | energy-saving and environmental protection |
| 316L diaphragm | Anti-corrision ,wear resistance , shock resistance | make it suitable for immersion for a long time in most industrial liquids |
| Suction water filter design | 8 pore design Anti-blocking Prevent plugging rate increases more than 80% | Simple maintenance ,easy to cleaning and installation |
a.All welded 316L housing
b..ImportedU.S.A MEAS TE piezoresistive pressure sensors, 5-10 years life design
Military level of printer PCB board, Anti-Jamming enhanced 300%, Stability of Circuit>10 years
c.Linear Amplified Output
d.Automatic temperature compensation -40~80,Temperature drift Automatic modified linear ≤0.01%FS
e.Superior Long term Stability
f.Excellent Repeat ability/Hysteresis
g.EMI/RFI Rejection
h.Low power consumption
i.Ten million cycle life expectancy
J.Outstanding shock& vibration performance
Specificate of Water Pressure Sensor
Model

HPT200-H/S8/C5

Pressure Range

-1 Bar-1 Bar; 0-0.1Bar.....1000 Bar / 0-2 Psi…15000 Psi Optional

Pressure Type

Gauge pressure; Absolute pressure; Sealed gauge pressure; Negative pressure optional.

Output

4~20mA

4-20 mA or

0~5V ,1~5V, 0-10V

RS485

4~20mA +Temp (Ω)

Or 4~20mA+HART

Double 4-20mA

Power Supply

12~36 Vdc

12~36 Vdc

8~36Vdc/15-36Vdc

10~30 Vdc

12~36 Vdc

Accuracy

≤ ±0.5%F.S; ≤ ±0.25%F.S

(Linearity Hysteresis

≤ ±0.1%F.S (Customized)

Repeatability)

Including non-lin., rep. and hys. Optional

Working/Storage Temp

-30~85

Tempe Compensation

-10~60(standard); -20~60; -20~80(customized)

Safe Overload

200% F.S.(standard)

Burst Pressure

300% F.S. (standard)

Total Error Band

0...50 °C max. ±0.5 %FS; -10...70 °C max. ±1.0 %FS

Medium compatible

Compatible with 316 Stainless Steel or 1Cr18Ni9Ti stainless steel

Zero Temp. Drift

0.03%FS/(≤100kPa), 0.02%FS/(>100kPa)

Body materials

316 stainless steel (standard); 1Cr18Ni9Ti stainless steel optional

Filling oil

Silicon oil (standard); Fluorocarbon oil (Oxygen Services)

Electronic connection

-DIN43650 Hirschman Connector, 4-poles and IP65.

-Plug: M12 (4-poles) Type IP67;

- Directly Outlet Cable Type IP68 optional.

Pressure

G1/4''male, G1/2''male, 1/8''NPT male, 1/4''NPT male, 1/2''NPT male and female optional. (by customized)

connect port

Dimension

Length: 120 mm (standard); Body diameter: 27 mm (standard). *special size by requested*
Order information : Pressure range :0-50 bar , Output :4-20mA , Power supply:12~36VDC ,Process connection: 1/4"NPT male ,Electronic Connector:Directly cable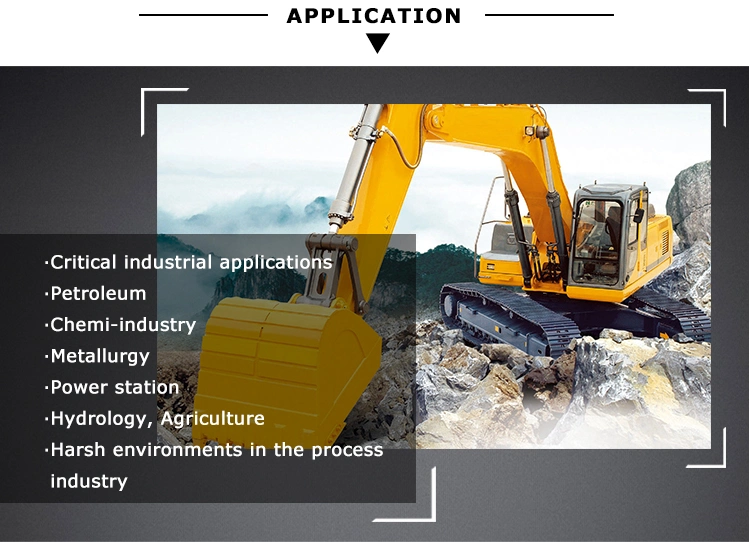 Applications :
Critical industrial applications
Petroleum
Chemi-industry
Metallurgy
Power station
Hydrology, Agriculture
Harsh environments in the process industry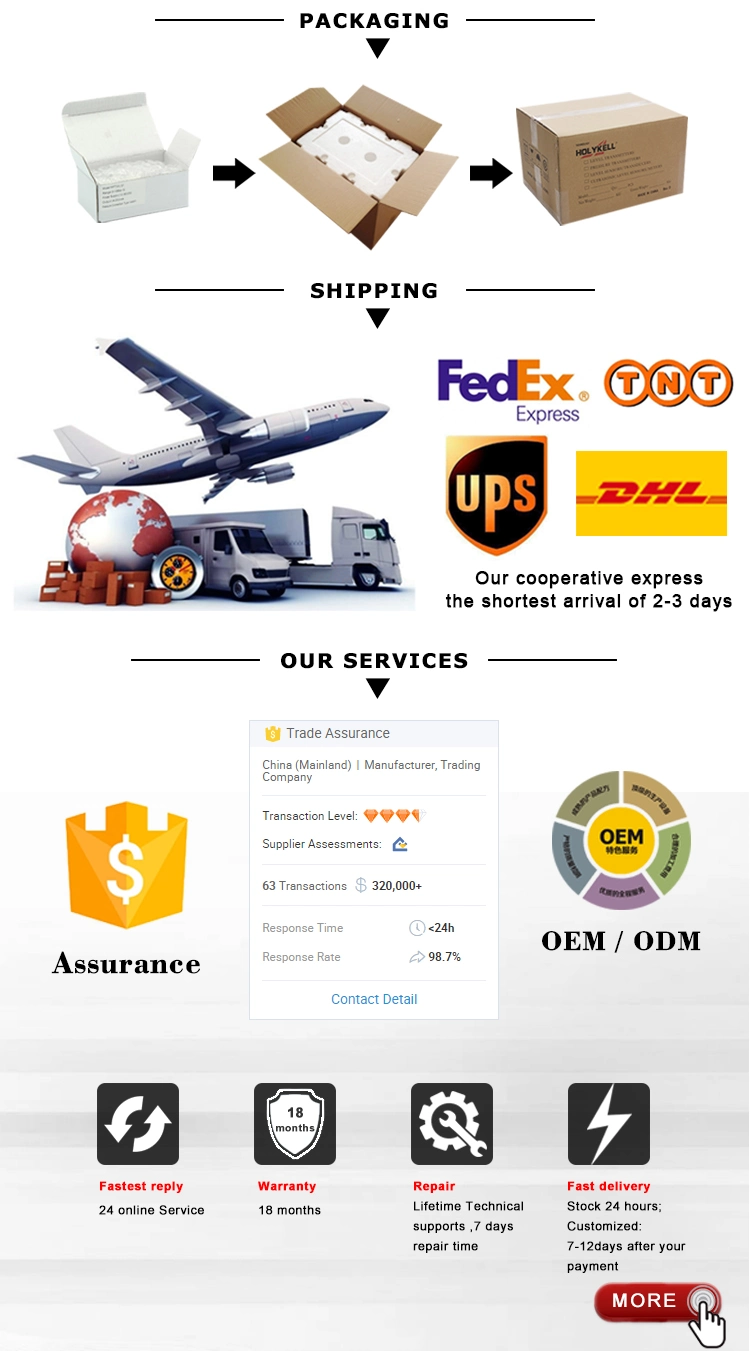 Company Information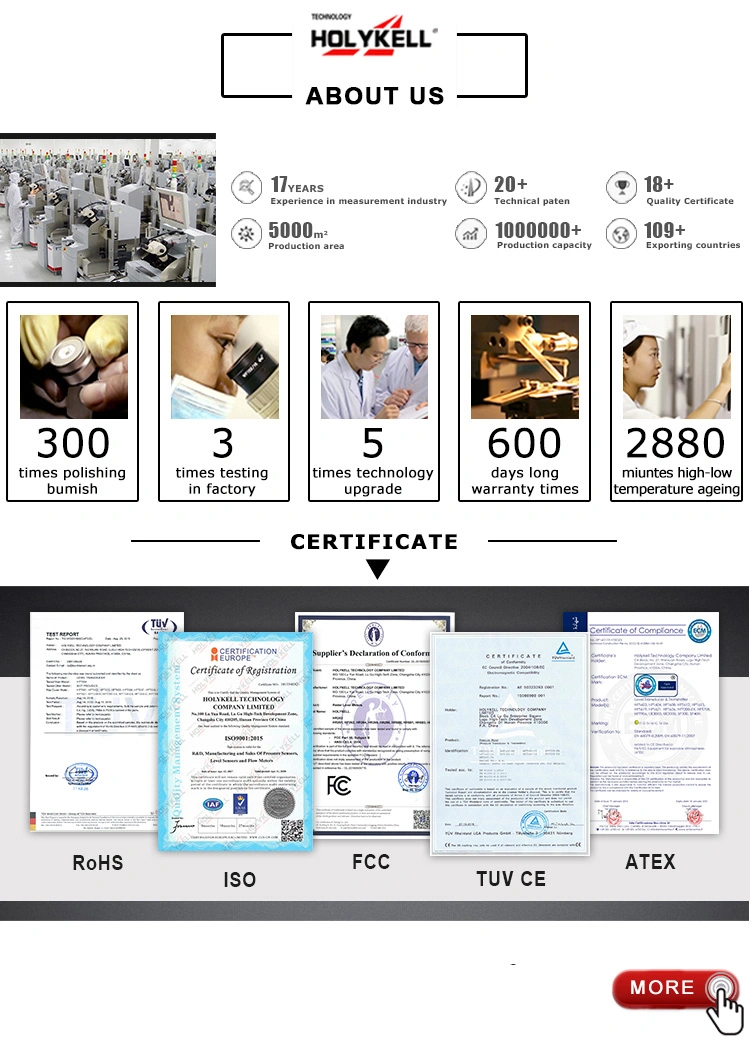 FAQ
How to place an order
In order to recommend you the most suitable pressure transmitter and make an accurate quotation, please fill in the following form and send it to me , thanks
Requirements

NO

Technical Parameters

1

Pressure sensor

50bar

2

Output signal

4-20mA

3

Cable length

4

Quantity

Your other requirements will be welcome
Price is for 5m range 420ma 5 m PE cable with vents , If you want to order other specification ,you can contacts us directly ,we will reply you 24 hours online .